Multiple Classes in IE
Tuesday, June 5, 2007 at 6:57 am |

Comments off
I'm going to explain the use of multiple classes, and where IE6 chokes. When writing CSS, I find that it is often very nice to use multiple classes, so you can have a base CSS class to set up some default styles and then add an additional class to add more meaning. This is a technique I often use, setting up my base module as div.box and then adding additional classes to that base CSS to create new modules. Take this CSS, for instance:
So, if I have <div class="box featured">, the classes for div.box and div.box.featured will be applied to the div, giving it a "featured" style.
div.box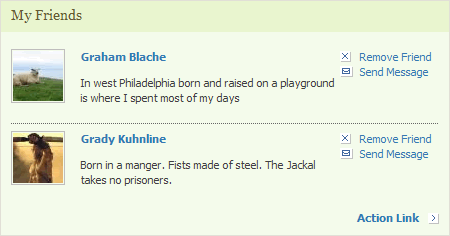 div.box.featured
Working with IE6
IE6, however, has an interesting caveat with multiple classes. IE6 does not make a distinction between the following rules:
How these rules should work is like this:
div.box.featured applies to <div class="box featured">
div.featured applies to <div class="box featured"> OR <div class="featured">
However, in IE6, div.box.featured works the same way as div.featured. IE6 doesn't understand the chain of classes within a CSS selector, but rather only reads the last class. So, IE6 reads div.box.featured as div.featured, while Firefox and IE7 will only apply the "featured" styles if the div also has a class of "box". For the most part, this isn't a big problem, as usually when you apply multiple classes, you want them all to apply. Let's look at an example of where this goes wrong. In this example, I have a table with zebra rows, and also want a darker "selected" state if the checkbox is checked.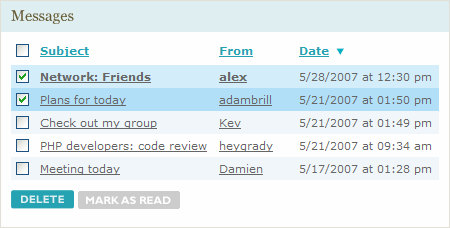 Table with zebra rows and selected states in Firefox / IE7.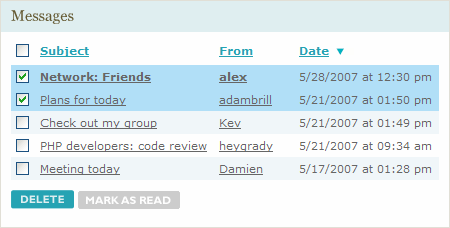 Table with zebra rows and selected states in IE6.
The HTML would look something like this:
And this is the CSS:
IE 6 does not understand the difference between td.selected and td.alt.selected, meaning your selected state cannot have zebra rows, using this technique. You would have to create them as separate classes, .selected and .selected_alt, which means you would have to do more computing with you JS or PHP (or other server side language).
Update
I've created a demo of the zebra rows example.
Comments
Comments are automatically closed after 45 days