CSS Vertical Centering Brings Traffic - Apparently
Friday, March 17, 2006 at 6:40 pm |

Comments off
So I saw this story posted to Digg yesterday: (CSS) At last! Proper vertical centering without tables. A bit aghast by the code, I quickly posted this comment with a link to a demo I whipped up 3+ years ago, while learning CSS (hard to believe it's been that long!). I think the worst part is the poster to Digg actually had the nerve to say "I developed this technique". Umm... right.
So anyway, this post isn't actually about the technique itself, which if you view the source code, you'll see is extremely simple and is nothing new at all. So what is it about? Traffic.
That page has essentially been online for 3 years (I tweaked it slightly before posting it to Digg, to make it look a bit better and to use em sizing, so it would resize better), and in the last 24 hours, it has gotten 2,115+ page views. From the comment I left on Digg, people have been bookmarking it in del.icio.us. At the time of this post, it was in the top 10 on the del.icio.us/popular page, with 287 people having saved it. What does this all mean? I have no idea, but find it very interesting for some reason - I think it's because the page has literally been around for 3 years.
Here's what Mint looks like right now, not even 24 hours later: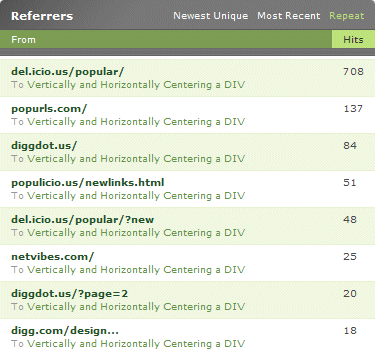 Comments
Comments are automatically closed after 45 days