A Better Blogroll
Friday, April 21, 2006 at 7:38 pm |

Comments off
I decided the other day that it was time to update my "blogroll", or my Friends and Colleagues links. I had two ideas that I wanted to implement, and since I just finished a big project, I decided to take a bit of time to work on some of the things I've been wanting to do for a long time.
Favicons
I wanted to include the people's favicons next to their links to make them stand out from each other a bit more than just a list of links seems to do. Plus, it just looks so darned sexy...
I thought about using PHP to dynamically pull the icons say, once a week, but ended up deciding on just manually creating .gif images of each icon. I didn't envision a big problem with this, as the icons won't be changing often enough to cause too much trouble.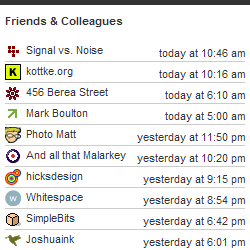 Latest Entries
I also wanted to pull in the last 3 blog entries for the people I was linking to. To do this, I simply set up a database with all the info for each friend, including a link to their RSS feed. I then parse the RSS feeds with PHP (thanks to the XML_Feed_Parser API from pear.php.net). I'm using blo.gs to track when the sites have been updated, to keep down on the number of times I need to ping the RSS feeds. This way, I only need to ping them if blo.gs tells me there is new content. Since many of the sites ping blo.gs for their sideblogs/blogmarks/links, if blo.gs indicates that the sites have been updated, I compare their last post title to the version I have stored. If they are the same, I ignore them, as I obviously don't want to update the time. If not, I update the entry titles, links and time of update that I am storing.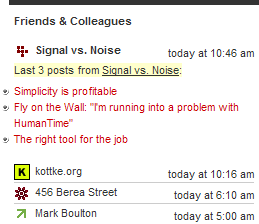 Wrapping up
Overall, I'm extremely happy with the results. I think it is much better than the standard list of links that most people are using. I think the visual recognition that goes along with the favicons will go a long way in making the list more meaningful. Anyway, you may need to reload the CSS and JS for it to work right, so please do that and then let me know what you think. I'm rather proud of it, myself...
Comments
Comments are automatically closed after 45 days